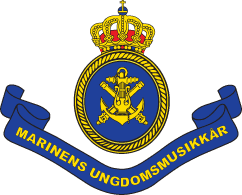 RSwNCB's official merchandise
Welcome to order your RSwNCB items here.

How it works :
Place your order below of what you want to buy and click "Submit" at the bottom of the page. You will receive an email from us with a confirmation of your order with an order number and total amount including postage costs.
Deposit the amount into to our account: IBAN: SE16 9500 0099 6034 0369 0633 BIC: NDEASESS. It is important that you write the order number you received in the order confirmation together with your name. As soon as we receive the money will we send your RSwNCB items to the address you have specified in your order.

If you wish to contact us regarding your order, then email to Merchandise Manager .

Printed items like CD-booklet, bear tag, and postcards comes from Printfabriken .
Teddy bears manufactured by Bukowski.
T-shirts and travel tag comes from Mersport.
The CD is printed by Skivfabriken.

Thanks for your order!
© 2014 Royal Swedish Navy Cadet Band